Fontaine Dance offers Very Fine Dances Shoes, Stephanie Dance Shoes, Go Go Dance Shoes.

Stephanie Dance Shoes are very affordable.
They are very lightweight and extremely flexible.
Generous quality padding provides ultra comfort for your dancing feet!
---
Very Fine Dancesport Shoes which was founded in June 1998. Since their beginning, the principle elements of their company have been focused on their service and delivery of quality products with affordable prices. As a result, Very Fine has successfully became one of the largest dance shoes suppliers in the US. Their relentless pursuit for perfection has made their dance shoes the first choice of many professional dancers.
Please call us at: 916-773-2535 to order your dance shoes.

We will schedule an appointment with you to go over the many styles that we offer. Your shoes are then ordered, which takes 3-4 days for delivery.
---
Shoes that cannot be returned:
Shoes cannot be returned after two weeks. A two-week period is given after the shoes are received. Shoes must be returned within the given time frame. After two weeks, we will re-order the same pair that was sold.
Shoes that have been danced in cannot be returned. We strongly recommend students to try their new shoes over a clean carpet or paper. Shoes worn over a hard surface will tend to pick up dust or dirt.

Special orders are non-returnable. Special orders are shoes we do not normally stock in our inventory. Since they are made specifically for a customer, we can not place the shoes back into our inventory.
What constitutes a special order? Please see below.
-A rare color we do not stock will be considered a special order. For example, we do not stock yellow shoes, however we can special order the color.
-A change in width will be considered a special order. When shoes are ordered in a wide or extra wide width, they can not be returned.
-A change in heel height will be considered a special order. Most of our shoes are available in two heel heights, however you will always have the option of special ordering a lower, higher, or slimmer heel.
-A change in shoe size will be considered a special order. Our lady's size range is from 4.5 to 10. The men's size range is from 6.5-13. Any sizes ordered below or above the sizes mentioned will have to be special ordered.
-A change in material will be considered a special order. For example, some styles are only available in one material such as satin. Although the shoes are available in satin material, you can special order a pair in leather.
-A combination of two styles will be considered a special order. For example, by taking the straps of one style and placing the straps on a different style will be considered a special order.

We understand that finding the perfect style is difficult; therefore, we give you limitless options to create a special order.
Special orders are beautiful but they are non-returnable.
As of 1/1/07: There is an additional cost of $15.00 on Special Orders.
Thank You,
Nancy and Steven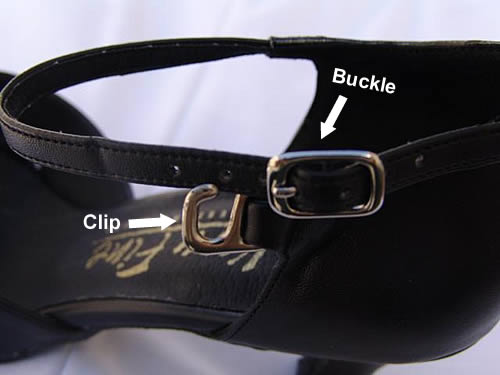 1) Holding the strap tightly around your ankle, adjust the buckle on the strap into the hole that is PAST the clip that is attached to the shoe.
2) Now slide the strap into the slot on the clip that is attached to the shoe. THAT'S ALL THERE IS TO IT!
3) When you remove DO NOT touch the buckle. Just slide the strap out of the slot.
After adjusting the buckle properly you NEVER have to hassle putting the bar into a hole again. Just bring the buckle past the clip and slide the strap in and out of the clip.